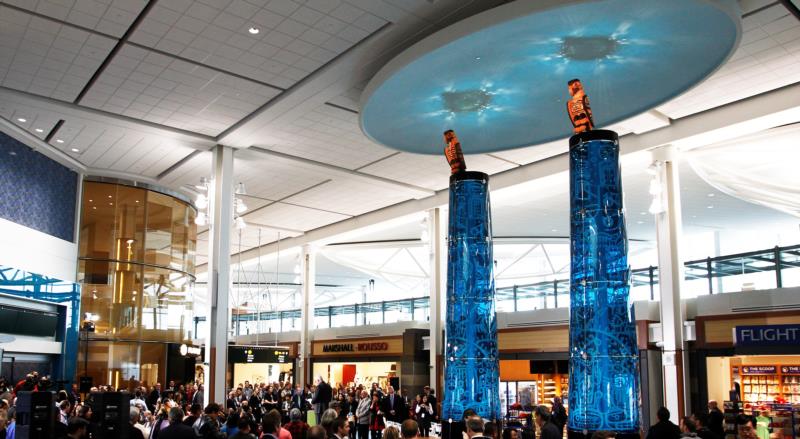 Today was an extremely important day at YVR as we officially opened the A-B Connector, a massive capital project (the biggest in our history) that was the first step in our 10-year Gateway Plan.
47 - Years since the original A and B Piers were constructed. Lester B. Pearson was Prime Minister (the namesake of YYZ!), The Beatles started and ended the year at the top of the Billboard chart and the Toronto Maple Leafs were the reigning Stanley Cup Champions.
1,400,000 - The increase in passengers at YVR last year, part of the reason we needed bigger and better facilities.
680 - Days with zero lost time accidents. This is a true achievement and something we are very proud of. Safety is our top priority.
213,000,000 - Canadian dollars. The amount of money we spent on the A-B Connector to improve every facet of the passenger experience at YVR.
35,000 - Pounds. The weight of each steel truss in the A-B Connector. Roughly the size of a Bombardier Q400 aircraft, commonly seen in that neck of the woods.
10 - New retail offerings including Carl's Jr., Lick candy store and Marshall Rousso's first Canadian location, bringing the total at YVR to more than 170.
7,166 - Square feet. The size of the new Plaza Premium Lounge, making it their largest lounge in North America.
98 - Percent of the construction material that was pulled from the site that was recycled or re-purposed for other projects, including 13 million kilograms of concrete and 1.4 million kilograms of steel.
919 - Columns installed.
11.7 - Metric tons. The weight of the heaviest piece of steel used for the A-B Connector.
82 - The number of Boeing 737-800s it would take to equal the combined amount of steel used on the project.
750 - Years Old. The age of the standing dead trees the wood benches were salvaged from the Diamond Head road in Garibaldi Park by a 70-year-old logger.