Yes, we're only a few weeks into 2015 but I already have big news to share with you. On January 13, we officially opened the A-B Connector, a new upgrade and expansion to our old 1968 Domestic Terminal Building.
The A-B Connector is our first major infrastructure project to be completed as part of our 10-year gateway strategy to keep YVR competitive, and a powerful economic generator for British Columbia. This project allows YVR to connect the people of B.C. to their destinations more efficiently – and I know this is critical to all of you.
It's a spectacular space, as you can see from some of these photos, but it's certainly not just about the surface beauty. Our expansion includes gate improvements, an expedited baggage system, seismic upgrades and a wide range of new retail and service options.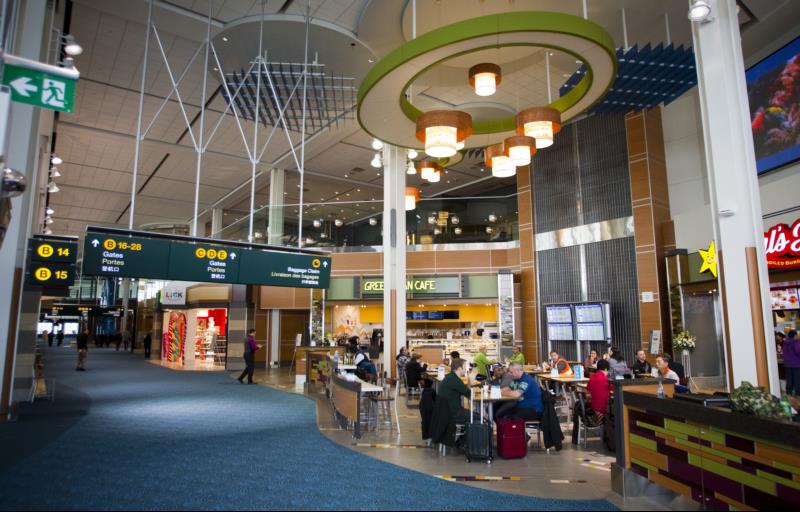 Years of planning go in to our projects here at YVR. How do you go about building a new extension to the terminal, while still running an airport operation 24 hours a day, all with an increase of almost 1.4 million people travelling through the same space? Our excellent team anchored by operations, engineering and construction play a crucial role in helping design and execute projects like these on plan and on budget. And I'm extremely proud to report that not a single lost-time incident occurred in the entire 680-day construction period. Special thanks to Tracy Nihei, Manager, Airport Projects, and her team, who worked tirelessly to complete this project.
To give you just one example of how teamwork comes into play, 12 months ago three giant steel trusses were being driven down our taxiway in the middle of the night. Now this is not the type of metal we typically refer to when we say there's some heavy metal on Taxiway Delta – that would be a 747 – but it's easier to steer an aircraft down the taxiway! The planning and coordination to move these three trusses in to place was way more difficult, especially considering each truss weighs 35,000 pounds. The team had to remove street lights to get these giant trusses from the Fraser River onto roads, go through fences and down the taxiway to the construction site. Take a look at the video below and see this for yourself:


But why is this project so important for BC? Well, in an increasingly competitive airport climate, we need to make the travel process more efficient to attract new airlines and meet the demands of the growing customer base from our current airline partners. The new A-B Connector will make it easier and faster for passengers and their baggage to connect through the airport. And it's certainly better for our airline partners as well.
Although I could probably write an essay on all the work, the design and the incredible tenants that anchor this new space, thankfully we're both off the hook (me from writing, you from reading.) Many of the stories in this month's edition of Air Mail feature the A-B Connector and explore the beauty and inspiration behind our signature art piece The Rivers Monument by the talented artist Marianne Nicolson. You'll also learn about the new shops, restaurants and service offerings as well as the design of the space.
But I would like to end on one very important note: how much this world-class facility cost. I'm proud that our project came in on plan and on budget at $213 million. This is your Airport Improvement Fee hard at work to make air travel more efficient and relaxing for the people of British Columbia.
So book your next flight to a Canadian destination and make sure you arrive early enough to come explore the A-B Connector for yourself.
In anticipation of your next trip,
Safe Travels,
Craig