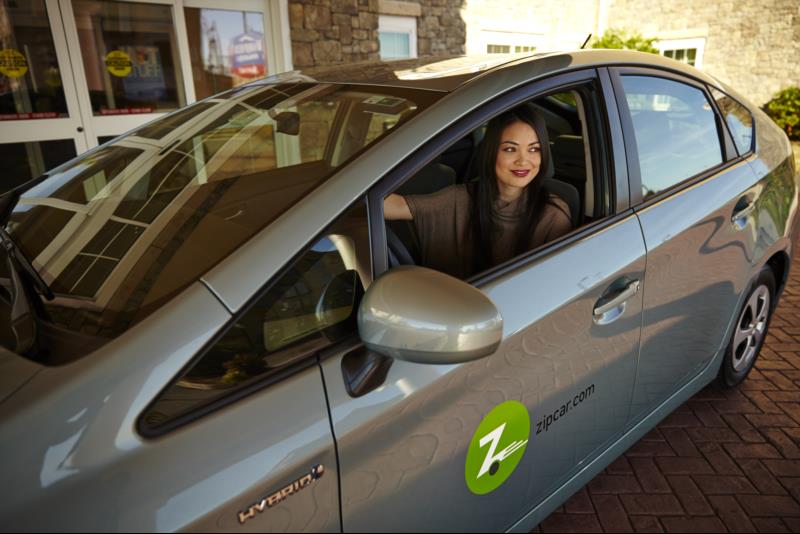 Looking to quickly hop in to a vehicle and hit the road upon arrival at YVR? Aside from all of the traditional car rental companies located at YVR, the airport also has a number of car share options now available, including Zipcar, which introduced service at the airport on Monday!
New to the YVR family, Zipcar is partnered with Avis rental car and conveniently offers on-site car sharing right here at YVR. Located in the lower level of the parkade, Zipcar is a membership-based model that has a flat fee for "Zipsters" on a yearly membership who can just walk up and scan their desired vehicle on the windshield, zoom around town and return the car to the same parking spot when you are all done. YVR has two Zipcars –a Toyota Corolla named "Volume," and a Hyundai Tucson SUV named "Paris" that are now available starting at $10 per hour or $79 per day. Gas, insurance and 200 km are included with each reservation.
Car2Go was also introduced recently as an option for travellers at YVR. Located just off site at the Pacific Gateway Hotel (accessible via free shuttle), Car2Go is also a user-accessed, membership-based carsharing service that exclusively offers their recognizable Smart Fortwo vehicles. You can grab a Car2Go offsite and use it to help get yourself to YVR, catch a ride home upon arrival or cruise around town on a long layover. More info on using Car2Go at YVR here.
Evo also has a pick-up-drop-off location just over at Park-N-Fly off Miller Road near YVR that is accessible via free shuttle to and from the main terminal building. Their fleet consists of Toyota Prius Hybrids that have seating for five and a roof rack so you can throw on your ski stuff or a couple bikes for the ride. Much like Zipcar and Car2Go, Evo is membership-based with windshield user access. Hop in, take a spin and return to an approved parking space when you are all finished.
Car sharing is a growing part of modern transportation that supports YVR's efforts to be a sustainable airport. If you have any questions about car sharing or anything else at YVR, tweet us @yvrairport.