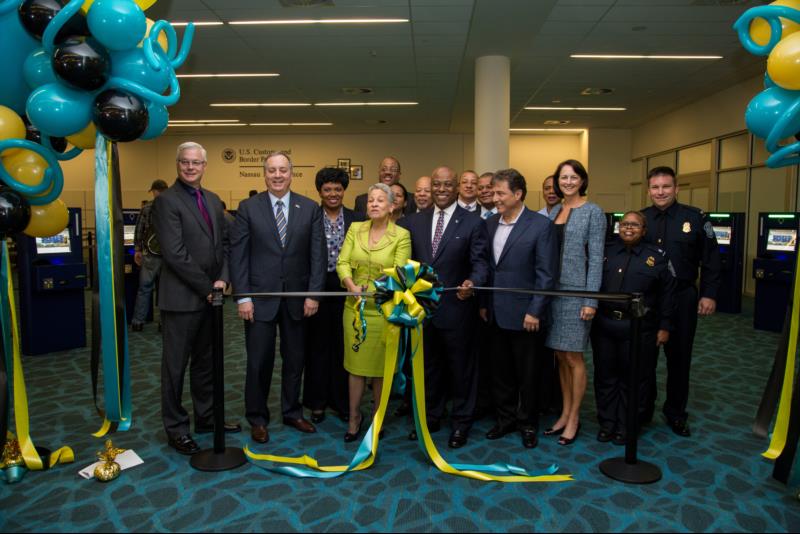 Big BorderXpress news out of Nassau, The Bahamas today, where YVR's President & CEO joined airport executives to cut the ribbon and officially unveil 20 BorderXpress kiosks at Nassau's Sir Lynden Pindling International Airport (LPIA). Local dignitaries were on hand, as were some of The Bahamas' more colourful characters.
This announcement is particularly special to the YVR team, because it marks the first deployment of YVR's BorderXpress kiosks at a Vantage Airport Group airport. You might remember that Vantage is YVR's associate company that manages nine airports around the world.
It's really exciting to see two of YVR's exports – airport management and self-service border kiosks –come together at LPIA, which is a stunning airport that serves as a gateway to The Bahamas for millions of holiday travellers.
LPIA is the second international location for BorderXpress, bringing the total number of airports to 20, throughout North America and the Caribbean. Collectively, the 610 deployed kiosks have helped speed up border clearance and reduce wait times for approximately 15 million travellers – with that number climbing every day!
The kiosks are up and running in LPIA's US Customs and Immigration pre-clearance area, and available to all American and Canadian passport holders, U.S. permanent residents and travellers from 38 countries that do not require U.S. visas for entry. You can learn a little more about BorderXpress on our website. (HL to BorderXpress page).
Congratulations to our partners at Vantage and LPIA!