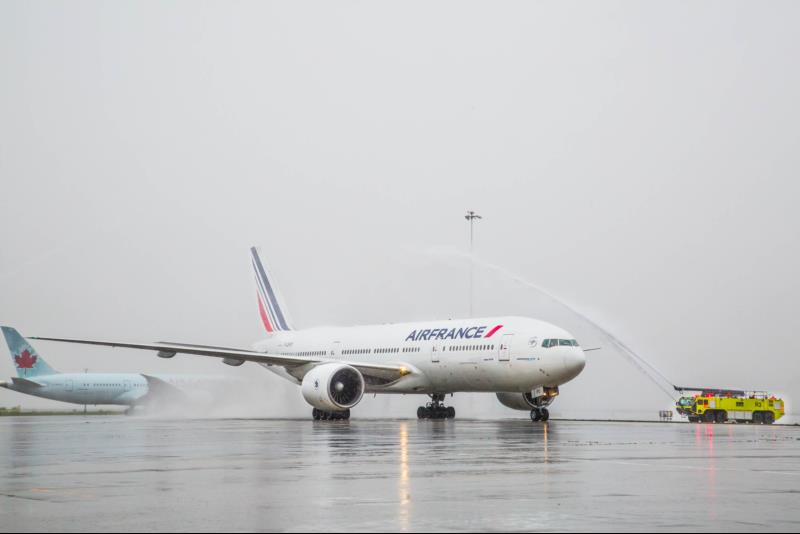 It was a wet but wonderful day at YVR yesterday as we welcomed Air France to the runways of Vancouver International Airport. We said bonjour to YVR's newest carrier with our very own water version of the Arc De Triomphe, delicious Parisian treats and sealed our love of Air France with a lock on our recreation of the famous Pont des Arts (see photos below).
We are so excited to be able to offer this new service for our passengers at YVR, and it's no wonder that residents of Metro Vancouver recently voted Paris their number one requested destination. Paris has so much to offer, whether you want to see the view from the top of the EifFel Tower, hear the bells at Notre Dame or spend hours getting lost in the Louvre, there's no shortage of things to do.
YVR is quickly becoming a main travel hub in North America. Air France along with its alliance partner KLM, offer an extensive European flight network. The addition of this service marks an important milestone in travel between Vancouver and France, leading to easier travel and connections to and around Europe. The service will operate three times per week from March 29 to May 3, 2015; five times per week from May 4 to September 13, 2015; and three times a week from September 14 to October 24, 2015.
Air France is a premium carrier that will operate a Boeing 777-200 for this service. Air France's fleet of 777's are being upgraded in order to create some of their best cabins, creating optimum travel comfort for the 309 passengers onboard.
If you are as excited as we are to plan a trip to Paris visit www.airfrance.ca for booking info. Bon voyage!