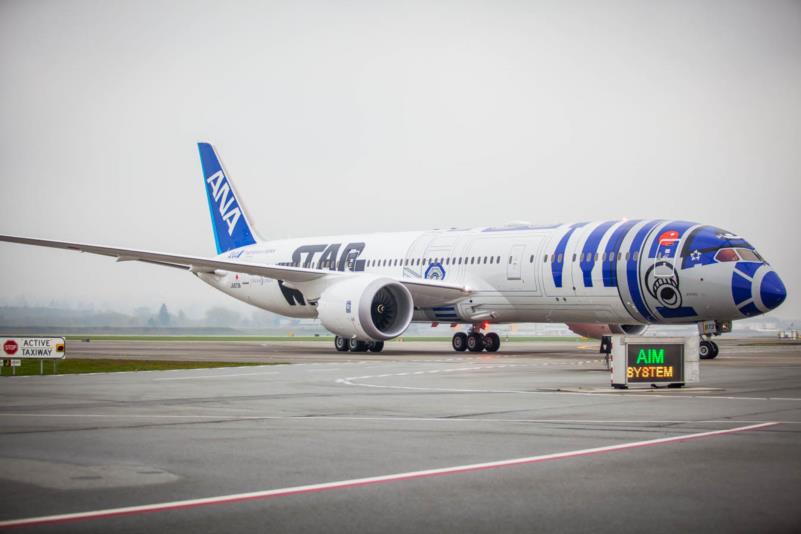 This truly one-of-a-kind plane made its debut at Paine Field in Washington State earlier this month to much fanfare. ANA streamed the event live which saw R2D2 and C3P0 both on hand for the first glimpse of this spectacular Star Wars-themed aircraft
This special Boeing 787-9 Dreamliner will begin its career by flying at a fan appreciation event in Japan on the 17th before taking off overseas to Vancouver for its first international flight on October 18, 2015. The extremely popular film franchise will be releasing the latest film in the series just a couple of months later so we are sure that plane spotters and Star Wars fans alike will want to catch a glimpse or take a ride on this rare bird.
After visiting YVR the plane will continue on to other international destinations such as San Jose, Seattle, Sydney, Munich and Paris leading up to the release of Star Wars: Episode VII - The Force Awakens on December 18.
The 787-9 variant of the Dreamliner has the same wingspan as the 787-8, but the 787-9 is a lengthened and strengthened variant with a 20 feet (6.1 m) longer fuselage and a 54,500 pounds (24,700 kg) higher maximum take-off weight.
Did you know? The first-ever landing of a 787 at YVR was actually an All Nippon Airways (the first Dreamliner customer) flight that was re-routed from Seattle to Vancouver due to heavy fog south of the border.
Cockpit crew: 2
Length: 62.8 metres (206 ft.)
Wingspan: 60.1 metres (197 ft. 3 in.)
Wing area: 325 sq. metres (3,501 sq. feet)
Wing sweepback: 32.2 degrees
Height: 17 metres (55 feet 6 inches)
Max. takeoff weight: 253,000 kilograms (557,000 lbs.)
Max. landing weight: 193,000 kilograms (425,000 lbs.)
Cruising speed: 913 km/h (593 mph)
Max. fuel capacity: 126,370 litres (36,641 gallons)
Service ceiling: 13,100 metres (43,000 feet)