Real Time Noise Tracking
WebTrak for YVR is an innovative online tool for tracking aircraft in the Metro Vancouver airspace.
Noise monitoring and flight tracking system
WebTrak is a web-based tool that tracks "real-time" and historical flight and noise data. The Airport Authority's Aircraft Noise Monitoring & Flight Tracking System collects data.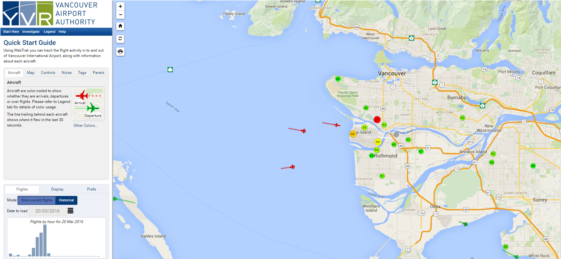 Security
For security reasons, there is a 10-minute delay of "real-time" tracking. Specific flight information, including airline and flight number, remains hidden. Sensitive flight operations, such as law enforcement and military flights, are not displayed. Data is available for 30 days.
Radar data source
NAV CANADA provides flight data and aircraft radar information for WebTrak. WebTrak data is not intended for navigational or regulatory enforcement purposes. Limitations in radar data and imaging can skew altitude data, especially at low levels.