Annual Public Meeting
Vancouver Airport Authority will be hosting its Annual Public Meeting to present the Airport Authority's 2020 Annual & Sustainability Report and financial statements.
Date: Thursday, May 13, 2021
Time: 3:00 - 4:00 p.m.
The 2020 Annual & Sustainability Report is available
here
.
Once again, the meeting will be conducted online to best accommodate COVID-19 protocol. Please submit your questions ahead of time to: [email protected] or via Twitter using #YVRAPM before Monday, May 10 at 12:00 p.m.

We will also be accommodating live questions.

A recording of the meeting will be posted here for those unable to attend.
English Captioning Instructions
Join the meeting from a web browser or Teams app on a computer, captions are not available on the mobile version. To activate subtitles during the live event, follow the instructions below:
1. Click the settings icon:

2. Click on Captions/Subtitles: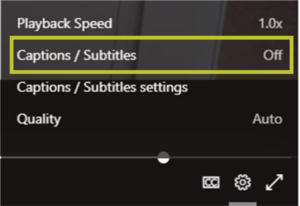 3. Select English:
Live captions should appear at the bottom of the meeting window.