Project Green YVR Programs
EnviroWise @YVR Audits
To continuously support businesses in minimizing their environmental impact on Sea Island, the Airport Authority offers quick and easy energy, water and waste audits to check in on tenants, look for collaborative opportunities, and identify improvements that align with our shared environmental goals.
Upon completion of an EnviroWise @YVR audit, businesses are provided with a final report highlighting key findings and recommendations. Recommendations may include technology upgrades or behavioural changes that employees can act on to save energy, water, and waste. On-going discussions with businesses are conducted to answer any post-audit questions and to follow up on any actions they may have taken.
EnergyWise @YVR
Join a community of YVR businesses dedicated to achieving real energy reductions, lowering operating costs and reducing environmental impact.
EnergyWise @YVR is a BC Hydro-supported initiative that moves beyond measurement and simply 'turning off the lights' by identifying both technical and behavioural energy-saving opportunities in your business. Through training, networking and ideas sharing, you'll learn how to engage your staff in energy conservation, while leveraging rebates or incentives available for energy-saving projects.
While no longer funded by the Vancouver Airport Authority, many Sea Island businesses have gone through Climate Smart training and have become certified. Contact Climate Smart Businesses Inc. directly to sign up and notify [email protected] so that we can connect you with the YVR Green Partner community.
Waste Wars
Food and beverage operators are invited to participate in the annual Waste Wars competition by diverting as much waste from the landfill as possible and improving recycling.
Waste Wars rules are simple: organic waste goes in the green bin, plastics, paper and metals go in the recycle bins and the remaining waste goes in the garbage. For seven weeks, terminal tenants' waste bins are inspected weekly and allocated points based on their level of separation. The tenant with the most points wins and is recognized with prizes and a feature on the YVR blog and social media channels. Thanks to Waste Wars, in 2018, YVR surpassed its 2020 waste target three years ahead of schedule, achieving 51 per cent waste diversion and went on to achieve a 54% diversion rate in 2019.
Water Fixture Rebate Program
YVR would like to help your business minimize rising costs tied to water treatment, wastewater disposal and associated infrastructure and support YVR's potable water efficiency improvement target of 50 per cent from a 2012 baseline of 69 L per passenger by 2024.
Through Project Green YVR, the Airport Authority will fund initiatives tailored to your business such as kitchen and washroom fixture replacements. For example, in 2018, aerators and efficient pre-rinse spray valves were installed at 50 terminal businesses and washroom fixtures were replaced at two Sea Island businesses.
YVR Green Excellence Award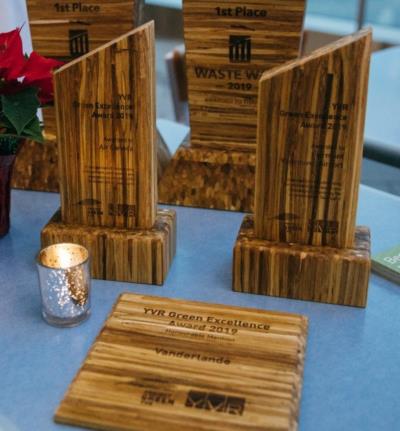 If your business is doing great things for the environment, the Airport Authority wants to recognize your efforts.
The YVR Green Excellence Award is granted to organizations that show outstanding commitment to saving energy, reducing waste, conserving water and improving ecosystem health. Winners are presented with an award (made out of recycled YVR chopsticks) and featured on the YVR blog and social media channels.