Project Green YVR Programs
Project Green YVR: Energy
Under the Project Green YVR: Energy program, Climate Smart provides training and tools to help your businesses measure its energy and water footprints and achieve reductions while reducing associated costs. It consists of small-group training sessions, expert one-on-one advising and customized reporting/analysis with the goal of becoming Climate Smart certified.
If your business is new to Climate Smart, YVR will cover the cost of training up to two employees and certification for one year (up to $5,500 value). See climatesmartbusiness.com/yvr.
Project Green YVR: Waste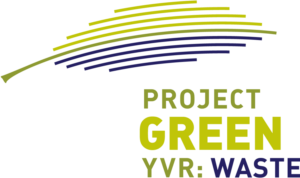 Under the Project Green YVR: Waste program, terminal food and beverage operators are invited to participate in the annual Waste Wars competition by diverting as much waste from the landfill as possible and improving recycling.
Waste Wars rules are simple: organic waste goes in the green bin, plastics, paper and metals go in the recycle bins and the remaining waste goes in the garbage. For seven weeks, terminal tenants' waste bins are inspected weekly and allocated points based on their level of separation. The tenant with the most points wins and is recognized with prizes and a feature on the YVR blog and social media channels. Thanks to Waste Wars, in 2018, YVR surpassed its 2020 waste target three years ahead of schedule, achieving 51 per cent waste diversion.
Project Green YVR: Water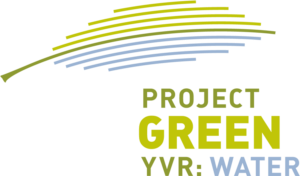 YVR would like to help your business minimize rising costs tied to water treatment, wastewater disposal and associated infrastructure and support YVR's potable water reduction target of 30 per cent below 2012 levels by 2020.
Under the Project Green YVR: Water program, YVR will fund initiatives tailored to your business such as water audits and kitchen/washroom fixture replacements. For example, in 2018, aerators and efficient pre-rinse spray valves were installed at 50 terminal businesses and washroom fixtures were replaced at two Sea Island businesses. Since 2016, this program has achieved an estimated annual water savings of 16 million litres.
YVR Green Excellence Award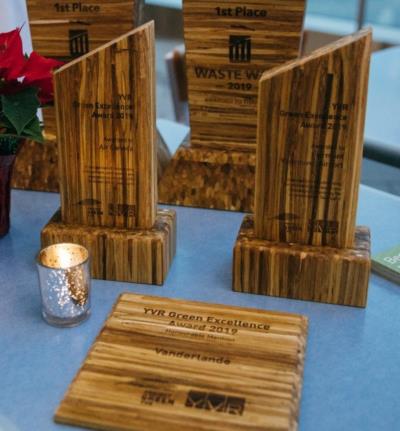 If your business is doing great things for the environment, the Airport Authority wants to recognize your efforts.
The YVR Green Excellence Award is granted to organizations that show outstanding commitment to saving energy, reducing waste, conserving water and improving ecosystem health. Winners are presented with an award (made out of recycled YVR chopsticks) and featured on the YVR blog and social media channels.