NAV CANADA will be conducting flight checks on the Instrument Landing Systems (ILS) for Runways 08R and 26L on May 16-17, 2018. Please note that the dates are subject to change due to operational reasons or poor weather conditions.
The ILS provides critical navigational information to aircraft on approach to assist with landings. Maintenance and flight checks are required to ensure the ILS meets stringent certification standards prescribed by Transport Canada. Flight checks involve a specially equipped Canadian Regional Jet (CRJ-200) operated by NAV CANADA that will fly unusual patterns and simulated approaches to the runway.
Due to increasing volume of air traffic in the airspace around Vancouver, performing the flight checks during the daytime has become more challenging and has often resulted in extending the duration of the check as the aircraft is asked to hold at low altitudes until the airspace is clear to continue the work. As a result, whenever possible throughout the year, NAV CANADA will conduct flight checks in the early morning hours, when the traffic volume is low, to help enhance the level of safety and to shorten the duration of the check.
The upcoming flight checks will be conducted in the early morning, with an estimated start time of 5:30 AM. Because the traffic volume in the airspace is much lower during this time of the day, it also provides increased opportunities to mitigate noise by shortening the flying time of the aircraft, using reduced engine power settings, and using modified flight circuit patterns to minimize overflights of populated areas whenever possible.
The duration of flight checks each day is expected to last up to an hour, and the north runway may be used for some aircraft during this time depending on operational requirements.
Further efforts will likely result in a reduction in flight times associated with future ILS checks, resulting in less noise and environmental impacts.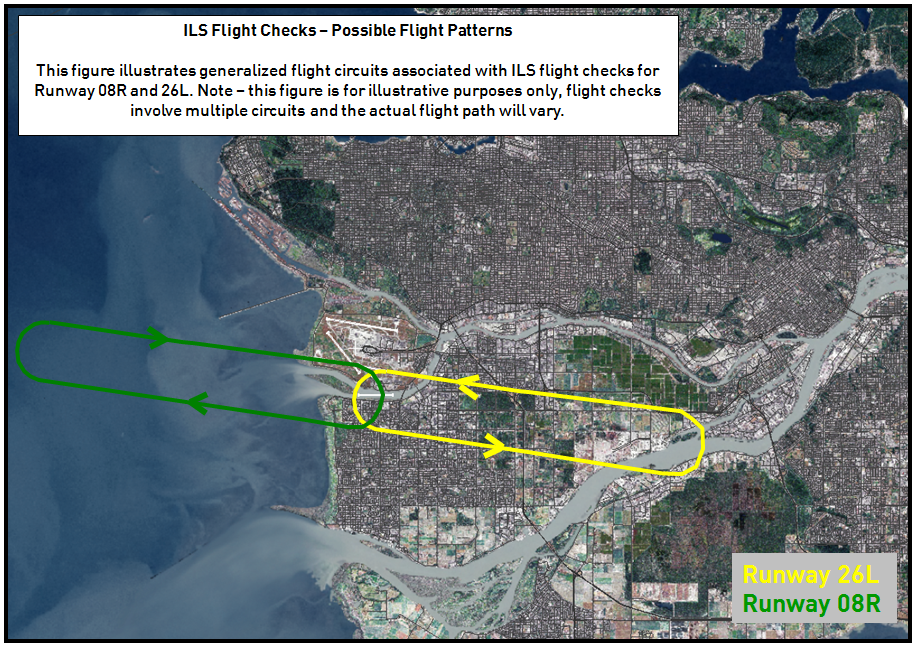 If you would like more information, please contact the YVR Noise Management team.