BORDERXPRESS™ USA: Automated Passport Control
Our BORDERXPRESS™ Automated Passport Control (APC) kiosks allow travelers arriving into the United States to quickly and securely complete US Customs and Border Protection (CBP) formalities. YVR's own Innovative Travel Solutions developed the technology in 2009 and this technology is now available at 32 airport and seaport locations across North America and the Caribbean.
BORDERXPRESS™
1300+

BORDERXPRESS™ kiosks sold, more than any other provider

39

Airports and seaports using BORDERXPRESS™ products
Save time and space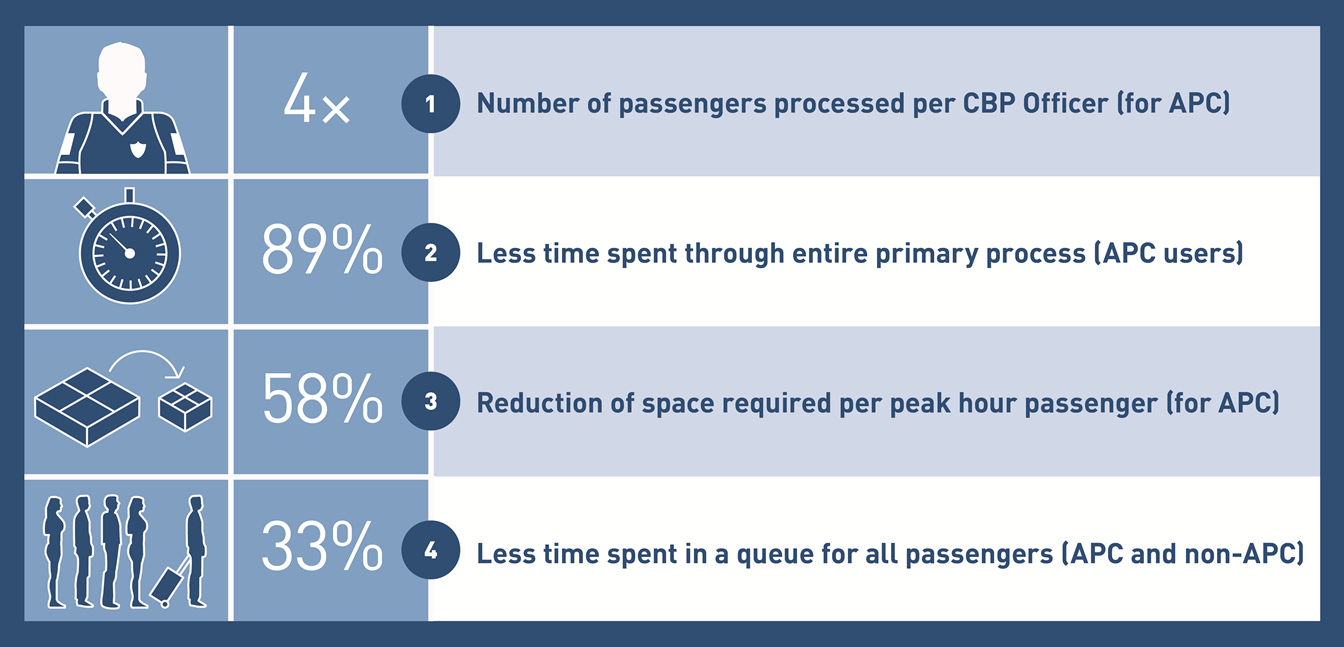 How it works
Instead of filling out a declaration card and taking their travel documents to a US CBP officer, eligible passengers choosing to use BORDERXPRESS™ kiosks can proceed directly to a self-service kiosk in the US Customs and Border Protection area and complete the two-step process.
STEP 1: Travelers complete the data-entry function themselves at the kiosk, which sends their encrypted information to US CBP for review and returns a response in seconds.
STEP 2: With receipt in hand, travelers proceed to a US CBP officer who verifies the document.
Reasons to choose us
We offer a fully-hosted, turnkey solution. Unlike our competitors, BORDERXPRESS™ doesn't require special IP addresses to be issued by US Customs and Border Protection for each site. We host the solution and have IP addresses already established with US CBP.
The quickest installations in the industry. Our best? 16 days from contract signing!
Reliability of the YVR-controlled network exceeds 99.7%, thereby minimizing kiosk downtime.
We are operating in 32 airport and seaport locations, making us the largest and most experienced vendor in the market.
Our best features are included at no additional cost. All of our kiosks are fully ADA compliant and we offer service in 35 languages.
Our unique parts warranty program guarantees our customers will have on-site parts for the life of the maintenance contract at no additional cost.
BORDERXPRESS™ APC CRUISE is now available for the cruise industry! All of the time-saving benefits of APC are now available for cruise ship passengers at Port Metro Vancouver and Port Everglades, Florida.
YVR is the largest and most experienced provider of APC solutions for US Pre-clearance airports. We operate in Vancouver, Calgary, Winnipeg, Montreal, Halifax, Aruba and Nassau. For more information on our Pre-clearance consulting services, please view our US Preclearance Consulting Services brochure.
Learn more about what Innovative Travel Solutions can offer your airport.

Eligibility
BORDERXPRESS™ APC is currently available for U.S. and Canadian passport holders, visitors from 38 Visa Waiver countries with an Electronic System for Travel Authorization (ESTA) approval and US Lawful Permanent Residents. Eligibility also includes visitors with US-issued visas and foreign air crew.
Contact Us
Contact us for more information on our BORDERXPRESS™ kiosks.