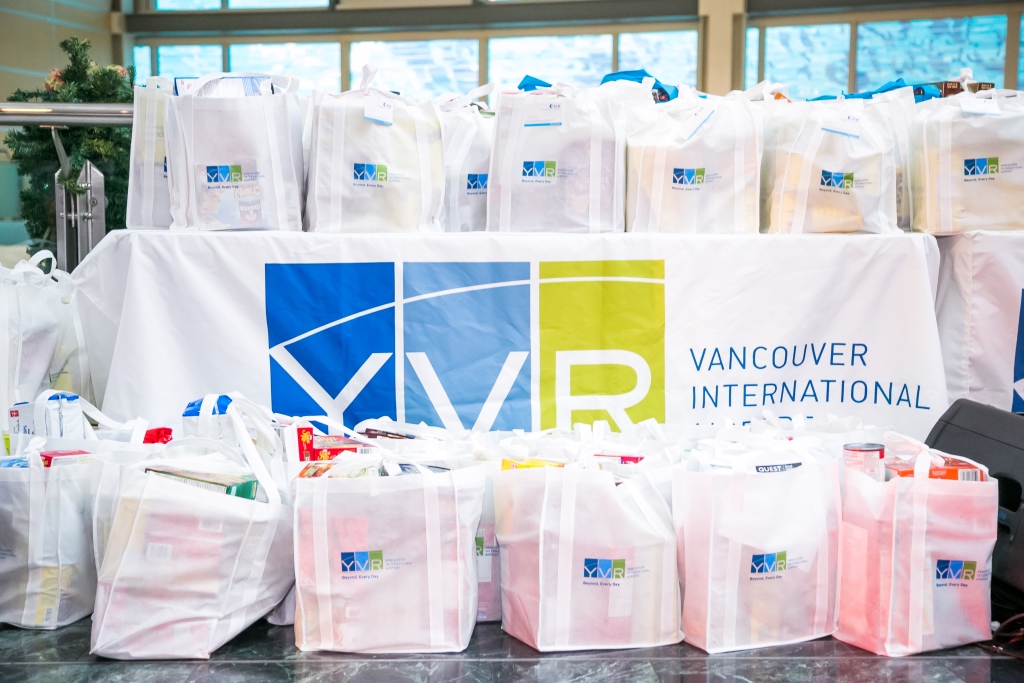 Helping feed families in need is the name of the game this season as YVR will once again be holding our annual Holiday Food Hamper Drive benefitting Quest Food Exchange.
Until December 8th the YVR community is encouraged to help us fill hampers with all the ingredients needed to make a complete holiday meal. For every hamper filled the Airport Authority will donate a turkey to complete the meal. Last year we collected a record 516 hampers and this year we hope to reach over 600 hampers.
The hamper drive will wrap up with a Holiday Around the World themed celebration at the Spirit of Haida Gwaii: the Jade Canoe (International Departures, Level 3) on December 8th from 4:00 p.m. to 7:00 p.m. There will be plenty of entertainment, treats and great prizes. Bringing in a hamper will grant you entry to the event as well as a free t-shirt and entry to win prizes.
Quest Outreach Society is a not-for-profit organization that diverts overstocked, mislabeled or near-expiry products from going to waste towards those in need. Their goal is to reduce hunger with dignity, build community and foster sustainability. Since 2011, 2,055 families have received hampers and more than 857,037 people have been helped overall through YVR's partnership with Quest. More than 3,270,105 lbs of food have been diverted from landfills and 2,332,000 lbs of greenhouse gas equivalents have been prevented from entering the atmosphere. We look forward to continuing this thriving partnership with the help of the YVR community.
If you would like to participate in the YVR Holiday Food Hamper Drive and receive your reusable hamper bag and shopping list, please email
community_relations@yvr.ca.