VAFFC Tank Farm Expansion
Vancouver Airport Fuels Facilities Corporation (VAFFC) is a long-term tenant of YVR that owns and operates aviation fuel storage and distribution facilities at YVR. VAFFC is planning to expand capacity at their current jet fuel storage tank farm, which is an existing use within our Airside land use designation in YVR's federally approved Land Use Plan.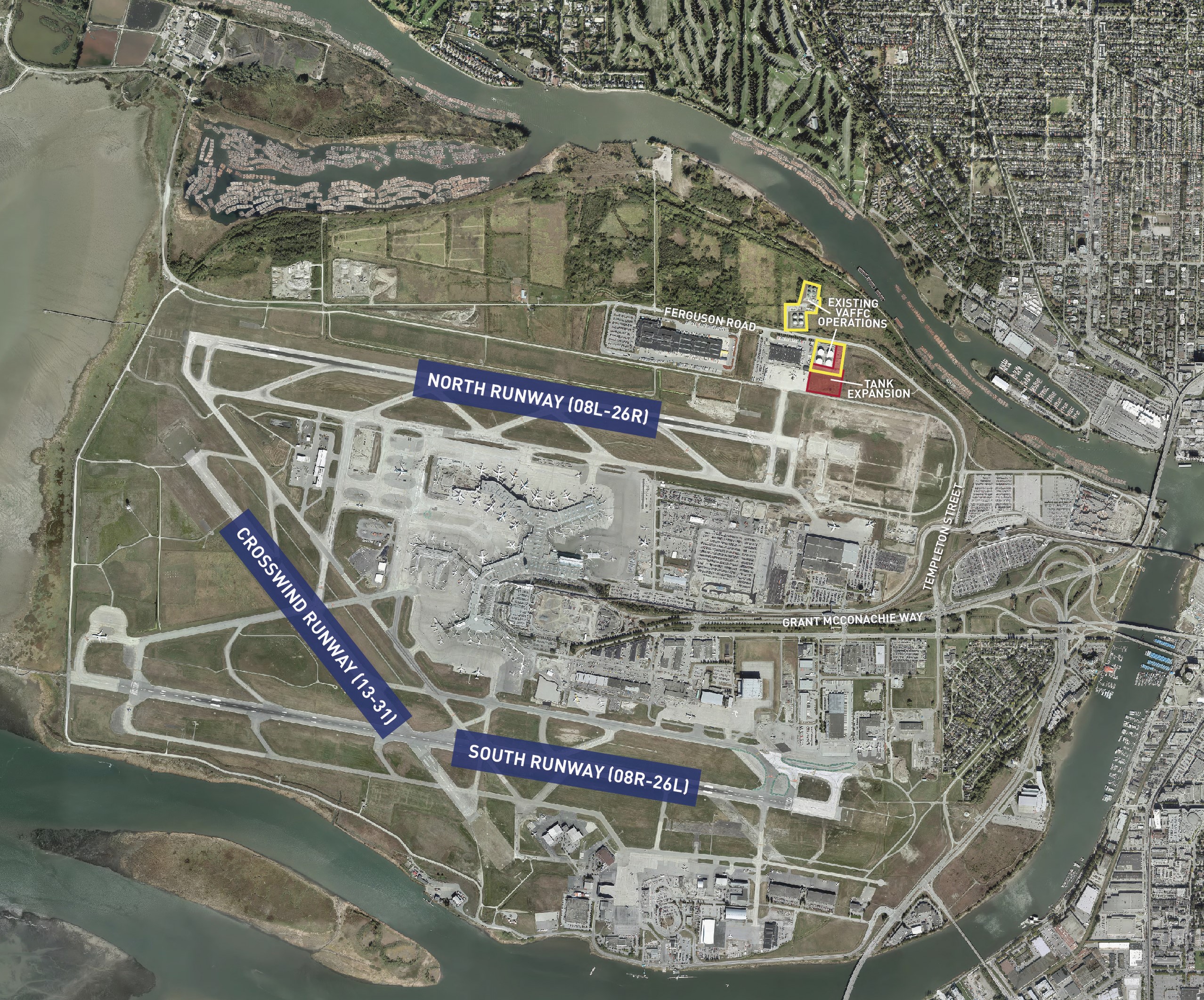 Due to increasing demands and growth at YVR, VAFFC needs to increase the supply of jet fuel held on Sea Island to meet demand to ensure they have an adequate buffer to mitigate supply risks. It is critical to each airline's operation that eight days of supply is an acceptable level to be held at airports across Canada. Resupply can be disrupted by a variety of factors.
| | |
| --- | --- |
| Current Facility | Expanded Facility |
| Looking South | Looking South |
| | |
| Looking North | Looking North |
| | |
The two new fuel storage tanks will be located to the south of the four existing tanks on the parcel of land on the south side of Ferguson Road. These tanks are in addition to the four tanks on the north side of Ferguson Road which were installed in 2009. The design for the facility initially contemplated constructing six tanks, but was scaled back due to the global financial crisis. These initial plans envisioned the additional tanks would be placed in the current proposed location. NAV Canada has approved the location for the additional tanks with limitations so that the tanks do not impede the Instrument Landing Systems. Construction is expected to be complete by the end of 2020. Check yvr.ca/construction to stay up to date on construction activities.
If you have questions or comments about this project, please email community_relations@yvr.ca.
ABOUT VAFFC
Vancouver Airport Fuel Facilities Corporation (VAFFC) is a not-for-profit company owned by a consortium of commercial airlines representing most of the domestic and international carriers serving Vancouver International Airport (YVR). VAFFC owns and operates fuel storage and distribution facilities at YVR. These facilities are shared among the airlines, allowing them to avoid duplication and minimize costs. Similar fuel facility corporations operate at all of the major international airports across Canada.
VAFFC has more than 30 years of experience in aviation fuel handling activities at YVR. VAFFC contracts the management, construction and operation of its facilities to qualified organizations, and draws expertise from a network of experienced engineering and environmental consultants specializing in aviation fuel infrastructure.