Reducing Potable Water Consumption
2020 Target: Reduce Sea Island potable water consumption by 30% over 2012 levels
2017 Result: Potable water consumption increased by 1% from 2012
In 2017, potable water consumption across Sea Island was 1,222,265 m3—one per cent above our 2012 baseline of 1,206,721 m3. Several factors contributed to this increase including two water breaks at our facilities, but overall the increase was largely due to YVR's exceptional growth. While we were disappointed with the result, we are on the right track. Under our Environmental Management Plan, we started a range of initiatives that significantly reduced our
Water Use Trends
While we grew by almost two million new passengers in 2017, our potable water consumption per passenger stayed the same—51 litres. This is a significant milestone for YVR as it demonstrates how our efforts have created a more efficient and environmentally friendly airport.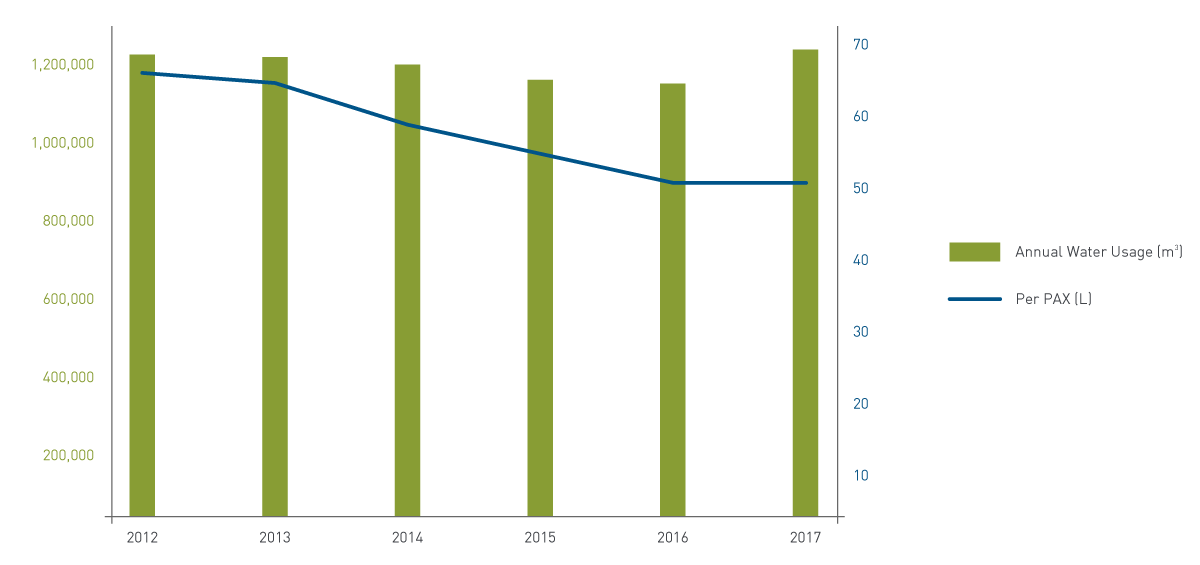 Our Progress
To achieve YVR's ambitious water consumption target, we continually check our progress. The City of Richmond provides potable water to Sea Island and we track progress quarterly through metered infrastructure. In 2017, the City of Richmond replaced three new water meters to ensure that accurate readings are being recorded.
Unlike many other airports, YVR tracks all of the water consumed for the lands it leases from Transport Canada across Sea Island. This means that the water consumption we track and report on is also that of our business partners, land and terminal tenants and our on-site contractors.
Research and Development
In 2017, YVR developed its first Water Conservation Management Plan, an ambitious and adaptive strategy aligning with our Environmental Management Plan. The Water Conservation Management Plan, which will be reviewed and updated annually, provides clear direction on how we intend to reduce water use on Sea Island.
Water Management
Since 2015, we have saved approximately 97,000m3; of potable water as a result of utilizing the rainwater collection system at the Airside Operations Building, limiting use of the heat exchangers at the International Terminal Building and periodically shutting off select irrigation and water feature systems in the summer.
In 2017, we undertook several water conservation projects:
Retrofits
We undertook two urinal retrofitting programs in 2017, saving significant water. We partnered with Air Canada to retrofit 14 continuous flush urinals at the Air Canada South Hangar and Cargo Building. Each urinal now uses significantly less water, with expected annual water use estimated at 111,000 litres—a 97 per cent reduction. In addition, we retrofitted 12 continuous flush urinals in three of the buildings in our cargo village. This reduced water use by 90 per cent, from 10.1 million to just 1 million litres annually.
Audits
In 2017, we conducted water audits with land tenants and food and beverage partners. Through these audits, land tenants gained a better understanding of how water is used in their facilities and how to reduce water use. The food and beverage audits helped us learn more about the water fixtures used in kitchens and identify which fixtures could be upgraded.
New Water Meters
We installed several new water meters in the Main Terminal Building, South Terminal and Airside Operations Building. With these new meters, we can closely monitor our water use and identify areas for improvement.
Sewer Station Upgrades
YVR manages 26 sewer stations on Sea Island, eight of which require water for cleaning. In 2017 we upgraded three of these stations with an agitator, which reduces the need for flushing.
Leak Detection Pilot
We partnered with Pure Technologies Ltd. in 2017 to trial the Sahara® tool, a tethered device used to detect leaks and assess pipe conditions. We deployed this device in the South Runway water main to determine its current condition and identify any leaks. The results of this pilot confirmed that this water main is in good condition, with no leaks.
Education & Outreach
In 2017, YVR employees participated in Metro Vancouver's Capilano Watershed Tour. This was an excellent opportunity for employees to experience the outdoors, learn more about the processes our drinking water goes through and how Metro Vancouver is tackling the water demands of the region.
Rainwater Capture
YVR collects rainwater from the rooftop of its new Airside Operations Building and currently uses this water for non-potable uses. We are closely monitoring this system, which we estimate saves approximately 620 m³ of potable water per year. This type of feature will be included in YVR's new Parkade and we anticipate it will have a significant positive impact on our water use.