Message from Mary Jordan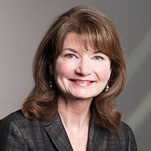 Mary Jordan
Chair, Board of Directors
Director at large
YVR is committed to serving British Columbia and in 2017 we did just that — forging strong partnerships, providing economic and social benefits and inspiring communities.
As a not-for-profit organization, YVR is committed to being an airport that reflects the needs of our region. We constantly look for ways to improve and in 2017 we found a great opportunity to involve the community through the third consultation phase of YVR's 20-year Master Plan. We received valuable feedback on how we can build a better airport, one that drives growth, supports B.C.'s economy and leads the world in sustainability.
Our unique governance model underpins our success. On June 21, we made airport history with the signing of the Musqueam Indian Band – YVR Airport Sustainability & Friendship Agreement. The first of its kind, this historic 30-year agreement will ensure we work together to manage the airport for years to come. And in November, we received Best Overall Corporate Governance and Best Practices to Enhance Corporate Boardroom Diversity at the 2017 Governance Professionals of Canada Excellence in Governance Awards. These awards are particularly important to me because they demonstrate that our Board reflects the communities we serve.
We continued to strengthen community ties, sharing the benefits of our growth. This included over $1 million in contributions to a range of organizations such as the Pacific Salmon Foundation, BC Mobility Opportunities Society, Covenant House Vancouver and many more.
And we continued to lead the industry in environmental best practices. YVR received the Airports Going Green Award for our efforts to help business partners reduce their impact. We maintained Level 2 Airport Carbon Accreditation with Airports Council International and we retained our Salmon-Safe certification, demonstrating our commitment to restoring, protecting and enhancing our ecosystem. At the same time, we diverted 51 per cent of our terminal waste from landfill, surpassing our ambitious 2020 environmental management plan target.
I take great pride in YVR and am amazed at our many accomplishments. It is thus my pleasure, on behalf of the Board of Directors, to thank you for another fantastic year—a milestone for our passengers, partners and communities. We strive to deliver an exceptional airport, every day, and we could not do this without your support.

Mary Jordan
Chair, Board of Directors
Vancouver Airport Authority