Message from Mary Jordan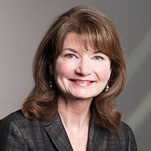 Mary Jordan
Director at large
On behalf of YVR's community-based Board of Directors, I would like to thank you for supporting your airport in 2016. YVR had a truly incredible year and we could not have done it without you.
As a not-for-profit organization, YVR's mandate is to provide economic and social benefits to the communities we serve. In 2016 we delivered on this commitment by seeking your input through the second phase of consultation for our new 20-year Master Plan. We received great feedback that will help us plan the future airport, one that serves diverse needs and continues to drive growth in the region.
In addition to receiving Airport Carbon Accreditation from Airports Council International, we achieved significant early results from our Environmental Management Plan. We became the first airport in the world to be Salmon-Safe certified, an industry-leading recognition that acknowledges our efforts to transform and improve our land and water practices. We also diverted 51 per cent of our terminal waste from landfill, thanks to the efforts of our dedicated team and tenants.
While we delivered on our growth targets, we continued to give back. We contributed over $1,000,000 to community initiatives such as Pride Parade, BC Mobility Opportunities Society, Great Canadian Shoreline Cleanup, YVR Art Foundation and many more. We also invited the community to join us at YVR's first Community Chill Out—a fun, family event that provided YVR with a great opportunity to show our appreciation.
Our team of dedicated employees maintained and improved the airport, upholding our commitment to safety—our number one priority. And for the first time, Vancouver Airport Authority received the award for Best Practices in Enterprise Risk Management at the Governance Professionals of Canada Excellence in Governance Awards, demonstrating that we are responsibly managing our airport.
Thank you for sharing our vision, supporting our operations and working with us to build a world class airport. We are proud of our accomplishments and our community, whose support provides our team with the inspiration to go beyond, every day.
Mary Jordan
Chair, Board of Directors
Vancouver Airport Authority