Message from Craig Richmond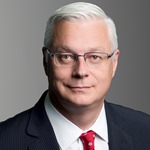 Craig Richmond
President and Chief Executive Officer


On May 1, YVR welcomed British Airways' Airbus A380—the world's largest passenger aircraft—for the first scheduled service at our airport. This set the stage for an incredible year, where decades of planning met with big accomplishments and strong growth.
A record 22.3 million passengers travelled through YVR in 2016. They chose from a range of great offerings including Air Canada's new non-stop services to Delhi and Brisbane and our new partners Xiamen Airlines and Beijing Capital Airlines. Our new rates and charges program, ConnectYVR, spurred this growth with some of the lowest airline fees in North America. And so did Air Canada, whose decision to grow their transpacific hub out of YVR led to 62 per cent of our passenger growth.
Inside the terminal, we completed key projects that will greatly enhance the customer experience. This included our new high-speed baggage backbone system, which can move a bag to anywhere in the terminal in under 30 minutes. We launched a new, mobile-optimized website and our industry-leading BORDERXPRESS™ kiosks continued to reduce wait times for passengers. To top it off, we unveiled a beautiful collection of Haida art in our Domestic Terminal by renowned artist Reg Davidson, adding to YVR's unique sense of place.
YVR's maintenance, operations and engineering teams continued to shine, completing the first Runway End Safety Area during our 101 busiest days in the summer. They also did a great job during a record cold period in December, when we experienced our first snowfall in 1,000 days.
The team's efforts resonated with our passengers, who awarded YVR Best Airport in North America at the Skytrax Awards for a record seven consecutive years. And for the first time we received Airport of the Year at the CAPA Aviation Awards for Excellence, an incredible recognition from our peers of YVR's global role in the aviation industry.
The foundation of YVR's success is its unique not-for-profit business model. Under this structure, we receive no government funding and we reinvest our proceeds back into the airport. Why? Because YVR is your airport. You have paid for it and thanks to your support it constantly improves. I am very proud of the work we have accomplished together and want to you thank you, once again, for your ongoing support.
Craig Richmond
President & CEO
Vancouver Airport Authority